Fishing Rolling swivel with coast lock snap fishing tackle fishing connector ,rated from 7 LB to 146 LB
1#_49mm(1.93")_Test:42kg(93LB)
2#_44mm(1.73")_Test:33kg(73lb)
3#_42mm(1.65")_Test:33kg(73lb)
4#_37mm(1.45")_Test:20kg(44lb)
5#_35mm(1.38")_Test:20kg(44lb)
6#_31mm(1.22")_Test:13kg(29lb)
7#_29mm(1.14")_Test:13kg(29lb)
8#_26mm(1.02")_Test:7kg(15lb)
10#_24mm(0.94")_Test:7kg(15lb)
12#_21mm(0.82")_Test:5kg(11lb)
14#_18mm(0.71")_Test:3kg(7lb)
1/0#_51mm(2")_Test:42kg(93lb)
2/0#_61mm(2.4")_Test:52kg(115lb)
3/0#_64mm(2.52")_Test:52kg(115lb)
4/0#_74mm(2.91")_Test:66kg(146LB)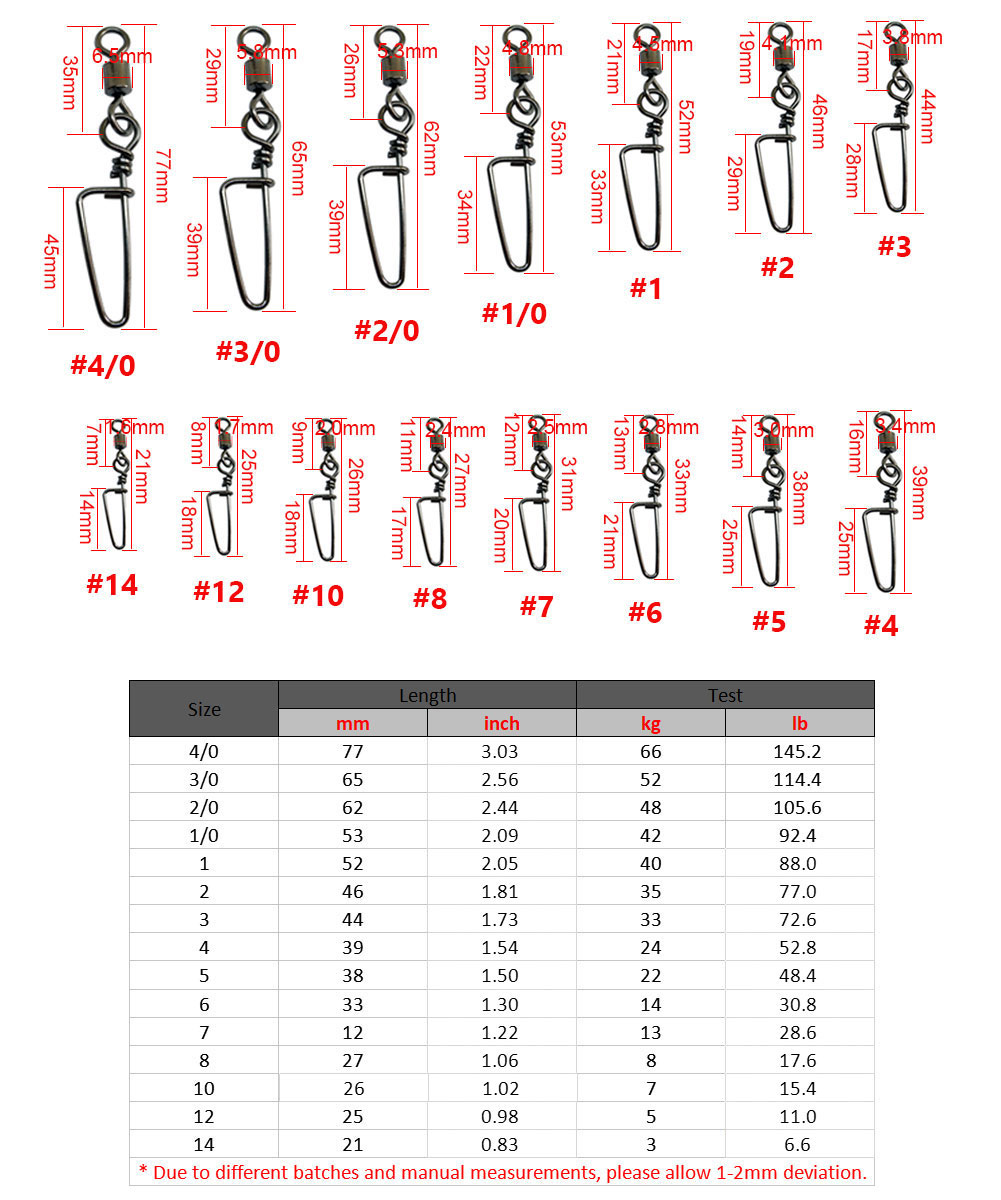 Note
1.If you have any questions, please feel free to email our service specialists 24 Hours a Day, 7 Days a Week.
2.Our aim is to provide Top Level Customer Service, so we will try our best to solve any problem.
3.We greatly appreciate your POSITIVE certainty. Please feel free to contact us if you have any problem with the order. We will reply you ASAP.