Strongest 3 Way Swivel

Great for Bottom Rigs

Fast Rolling Crane Swivels

Combination 3 Way Barrel Swivels

Ready to Fish Swivels!
1*2#_19mm(0.75")_Test:40kg(89lb)
2*3#_17mm(0.67")_Test:38kg(84lb)
3*4#_16mm(0.63")_Test:33kg(73lb)
4*5#_15mm(0.59")_Test:30kg(67lb)
5*6#_14mm(0.55")_Test:28kg(62lb)
6*7#_12mm(0.47")_Test:20kg(45lb
7*8#_11mm(0.43")_Test:18kg(40lb)
8*10#_10mm(0.39")_Test:13kg(29lb)
10*12#_9mm(0.35")_Test:8kg(18lb)
12*14#_8mm(0.31")_Test:3kg(7lb)
1/0*1#_21mm(0.82")_Test:44kg(98lb)
2/0*1/0#_24mm(0.94")_Test:57kg(126lb)
3/0*2/0#_28mm(1.1")_Test:71kg(157lb)
4/0*3/0#_32mm(1.26")_Test:95kg(210lb)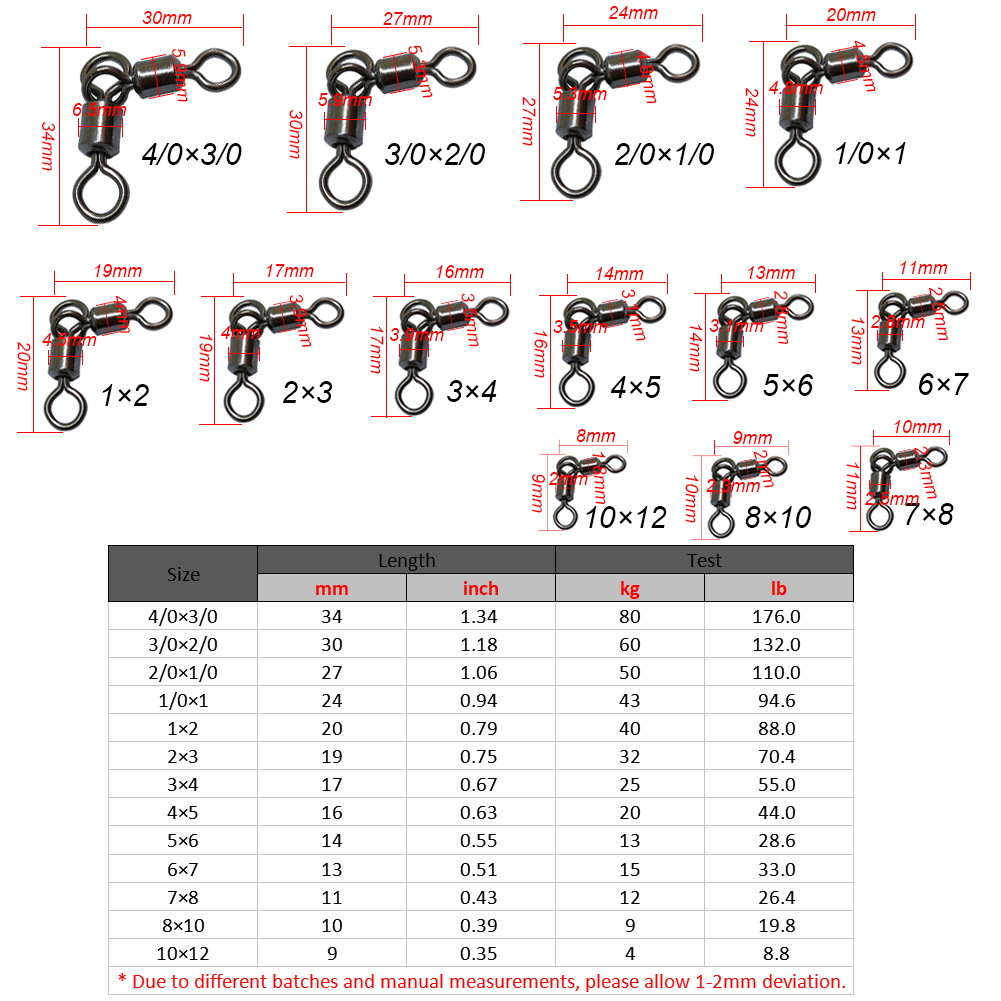 1.Swivel to smooth,super tention.
2.The Material is steel alloy + brass
3.On the case by the strong force,it can rotate flexibly.
4.It is applicable to many different kinds of fishing,it is your good helper.
5.It is particularly important to use for lure fishing, applicable to soft bait, hard bait, lead head hook, spinners, ect.,connector can be connected conveniently and fast,pole,sea rods,rock fishing group,rock fishing line,lure fishing ects.,such as explosive hook, string hooks, lures and sinker, and so on.The flying fishing ,pole line, connecting the monster, almost all the fishing will use it.
Note
1.If you have any questions, please feel free to email our service specialists 24 Hours a Day, 7 Days a Week.
2.Our aim is to provide Top Level Customer Service, so we will try our best to solve any problem.
3.We greatly appreciate your POSITIVE certainty. Please feel free to contact us if you have any problem with the order. We will reply you ASAP.